November 30, 2013
Nintendo Game Boy Evolution

Prints available @Society6

Created by Chungkong

(via:insanelygaming)

(via unwinnable)
July 30, 2013
Bioshock Infinite DLC Takes Players Back to Rapture
This feels at once both awesome and stunningly disappointing. What does it say about Bioshock Infinite that its creators think that after all this time, players would rather return to Rapture than Columbia?
Yes, Clash in the Clouds will let player whiz around the flying city to do what exactly? Oh, that's right, kill waves of enemies as quickly as possible—because that was the best part of Infinite, right?

I'd rather spend another $60 on a pack of fanfic made from mods by players than unload several hundred more rounds from the chamber of my carbine.
July 12, 2013
July 12, 2013
July 5, 2013
The Reason for Wii U Software Delays
According to Nintendo creative director Shigeru Miyamoto it's because,
"When it comes to the scale of software development, Wii U with HD graphics requires about twice the human resources than before. Please allow me to explain that we may have underestimated the scale of this change and, as a result, the overall software development took more time than originally anticipated just as we tried to polish the software at the completion phase of development."
July 5, 2013
Hyper Mode: Videogame The Movie
At Paste, Maddy Myers has an interesting article about the rise of the cinematic in video games.

What's interesting isn't so much the trend itself (which has been apparent for some time now), as the secondary development of narratives which are more divorced from the gameplay which accompanies them.
It seems that at the very moment when more developers are trying to create games which allow narratives to emerge "organically" out of the game's rules and how players interact with them (FTL, Proteus, Dark Souls), there's been a mirror movement focused on making games that are movies with little games and puzzles sprinkled throughout (Last of Us, Heavy Rain, Injustice). These are the games in which watching a Youtube compilation of cutscenes and dialogue can more or less act as a substitute for the experience of actually playing through the game.
As Myers explains, this has somewhat redefined the problem away from "too much watching vs. too little playing" and toward a more fundamental question of whether the player feels involved in what's happening on-screen.
"I question why "watching" and "doing" must be always at odds in games, though, since Remember Me managed to find a workaround. I am always watching a game as I play, so the question becomes one of participation. Do I feel involved? Including a "skill component" seems less important to me than ensuring my involvement in some form. Some "skill components" in games have the effect of making me feel less involved—especially when I am asked to repeat tasks to the point of absurdity."
June 27, 2013
Final Fantasy VII's Train Graveyard Has Never Looked So Beautiful
This is awesome. I'd love to see more of these and for more 2D games.
June 20, 2013
Opinion: Microsoft and Sony will eventually revert their game ownership policies, what matters is how
Chris Plante has another great column at Polygon explaining how both Sony and Microsoft will inevitably reverse their positions on DRM and used games, and why that makes it that much more important how they go about transforming the economics of video game retail,
"And here's the kind of, sort of, maybe good news: Both Sony and Microsoft know they're now competing for the best messaging of the DRM they will eventually enforce. The companies are motivated to make this digital shift — which is inevitable — as painless as possible. Now consumers should let the companies know what they want."
June 19, 2013
Sharing on Steam would be a game changer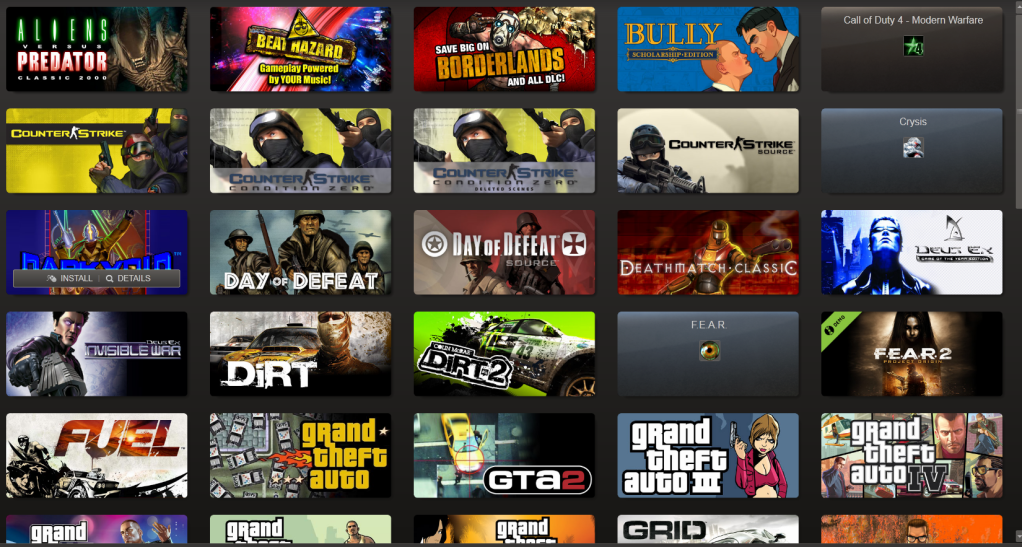 Luke Plunkett reports at Kotaku on some code from the most recent Steam client beta that first surfaced at NeoGAF. From the looks of it, Steam may be planning on opening up a "share" option for users—something that would make the service an even better value proposition for consumers:
"SteamUI_JoinDialog_SharedLicense_Title" "Shared game library"

"SteamUI_JoinDialog_SharedLicenseLocked_OwnerText" "Just so you know, your games are currently in use by %borrower%. Playing now will send %borrower% a notice that it's time to quit."

"SteamUI_JoinDialog_SharedLicenseLocked_BorrowerText" "This shared game is currently unavailable. Please try again later or buy this game for your own library."
June 18, 2013
Me, On The Screen: Race in Animal Crossing: New Leaf
I'm sitting on my bed for the third day in a row.

I'm waiting for 5PM to hit so that I can finally close my 3DS. I've been 'tanning' my avatar in the latest entry of Nintendo's long running Animal Crossing series, New Leaf. I put 'tanning' in scare quotes because the method doesn't match my intention. Yes, I'm doing the the thing the game calls tanning, but my objective isn't just darkening my avatar's skin tone, it's being able to see in the screen what I see in the mirror
allfillernokiller asked:Do you think that there is room all kinds of games, from the deep personal drama made by a single people with Twine to a multibillionmilliontrillion blockbuster game like Beyond: Two Souls? I am slowly getting the feeling that there are groups of people who wish to see "AAA Games" disappear and that makes me uncomfortable.

Part of the reason why the mockery of AAA games is so common is because, frankly, AAA can take it. There is absolutely no chance at all of AAA game...

Are You My Enemy? The Wide Net and Chilling Effect of Surveillance and Prosecution

The Obama administration casts a wide net — in designating enemy...

Me, On The Screen: Race in Animal Crossing: New Leaf

I'm sitting on my bed for the third day in a row.

I'm waiting for 5PM to hit so that...